Anatomy of the Retina
Anatomy of the Retina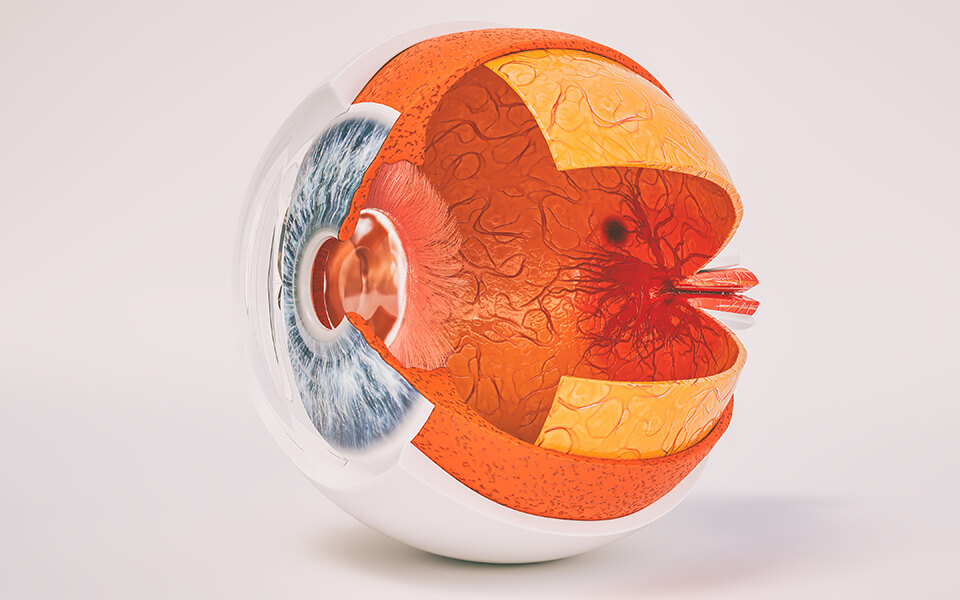 The retina, a simple, thin tissue layer, has the crucial task of converting light into electrical signals, enabling sight. An understanding of its makeup can help keep you aware of any concerns, and to alert your ophthalmologist for an earlier diagnosis.
A Basic Retinal Overview
Lining the eye's back wall, the retina is located opposite the lens and pupil. Measuring about 0.5 mm thick — about half the width of a sharp pencil point — the retina is made of two parts, the macula and the peripheral retina.
Macula
The macula, the retina's center, is characterized by yellow pigmentation. The macula's center, the fovea, has the eye's highest level of visual acuity, the ability to distinguish objects at a given distance. The fovea permits central vision, for straight-ahead images and close-up activities, like reading or seeing faces. Above is the optic nerve, a circular or oval, white area, from which the retina's major blood vessels radiate, and electrical signals travel to the brain.
Peripheral Retina
Your peripheral retina lets you see at the edges of your visual field, also called peripheral, or side vision. Think of this as looking out the corner of your eye, filling in the details.
The retina also contains millions of cells allowing you to perceive light, color, and fine details, including:
Photoreceptors facilitate sight, processing light into electrical signals your brain interprets as images.
Rods are photoreceptors that help you see in dim light and at night.
Cones make up most of your usual vision and also process color. Rods and cones work together to provide a clear, accurate picture.
Explore Your Retinal Health and Function in Utah
An amazing, important visual component, the retina is susceptible to multiple issues, making regular ophthalmological monitoring essential. To schedule a comprehensive retinal exam, or for any questions, we invite you to contact us at Retina Associates of Utah for an appointment.